"The Dirty Bird"
RECORD: 32-13-1 (1 NC)
STANCE: Orthodox
DIVISION: Welterweight
HEIGHT: 6' 2"
REACH: 75"
LEG REACH: 43.50
WEIGHT: 170 lbs.
TEAM: Power MMA
NATIONALITY: Wilburton, United States
OUT OF: Albuquerque, New Mexico, United States
AGE: 36


Accolades
RECENT WIN STREAK: 1
WINS BY KO: 19
WINS BY SUBMISSION: 5
WINS BY DECISION: 5


FIGHTER METRICS
STRIKING ACCURACY
Significant Strikes Attempted: 2115
Significant Strikes Landed: 967
TAKEDOWN ACCURACY
Takedowns Attempted: 27
Takedowns Landed: 8
Latest Bouts: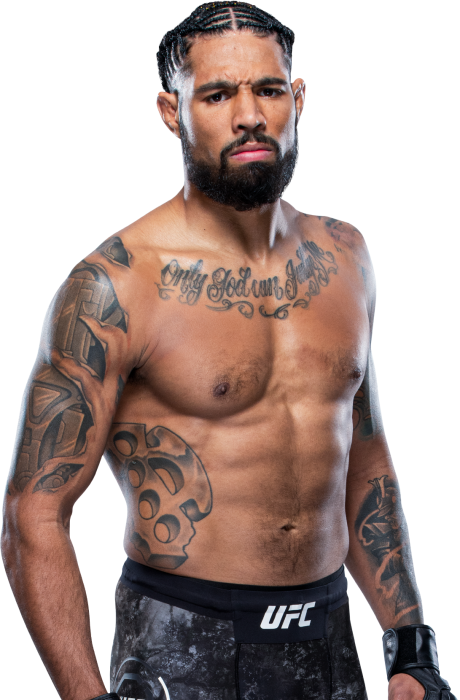 Max Griffin
Defeated by Split Decision in Round 3
Sat. Oct 29, 2022
Kevin Holland
Defeated by Submission in Round 2
Sat. Jun 18, 2022
Nicolas Dalby
Winner by Decision in Round 3
Sat. Jun 26, 2021
Mike Perry
Winner by Decision in Round 3
Sat. Nov 21, 2020
255
Laureano Staropoli
Winner by Decision in Round 3
Sat. Aug 08, 2020
Daniel Rodriguez
Defeated by Submission in Round 2
Sat. Feb 15, 2020
Thiago Alves
Winner by Submission in Round 1
Sat. Dec 07, 2019
Tim Means is an American mixed martial artist who competes in the Ultimate Fighting Championship (UFC). He currently fights in the Welterweight division.
Means was born on August 9, 1984, in Lubbock, Texas. He began his combat sports career training under renowned coach Mike Winklejohn at Jackson-Wink MMA Academy when he first moved to Albuquerque, New Mexico.
In 2006 Means made his professional debut and quickly went on to become one of the most feared competitors in the sport. Through hard work and dedication he earned a reputation for himself as a no nonsense fighter with an excellent striking arsenal that enabled him to finish opponents both standing up or on the ground. His impressive record of 26 wins and 8 losses was enough to garner him a spot within UFC's ranks beginning with his inaugural fight against Abel Trujillo at UFC Fight Night 34 in 2014 which he won by unanimous decision.
Since then Means has continued to grow as a fighter competing eleven times inside the octagon over seven years winning eight of those bouts including four by knockout or TKO and two by submission. Some of his notable performances include back-to-back victories over Belal Muhammad (unanimous decision), Alex Garcia (TKO) and Thiago Alves (split decision). Additionally he received three performance bonuses throughout this period for delivering exciting fights such as his bout versus Danny Roberts at UFC Fight Night 142 where both combatants were awarded 'Fight of The Night' honors due to their spirited exchanges over 15 minutes inside Adelaide Entertainment Centre Australia before ultimately being decided via split decision favoring Means thus earning him yet another bonus – 'Performance Of The Night' award..
Outside of competition Means is also active philanthropically having worked with organizations like Feeding America charity which during 2017/2018 gathered food donations totaling nearly $2 million dollars helping families across various US states who are struggling financially due poverty or other unfortunate circumstances providing them options for nutritious meals otherwise unavailable., Tim does not limit himself however when it comes giving back choosing instead be involved wherever possible contributing actively towards cause awarenness & raising financial support towards numerous noble causes ranging from military troops deployed overseas , police officers & firefighters affected wildfires among many others . In recognition for these efforts means has been featured several magazines & newspapers around United States as well featuring interviews television programs hosted different networks .
Ultimately Tim Means serves reminder that there more important things life than just wins lossses . Apart from being highly accomplished athlete ,he demonstrates daily how compassion kindness can create positive ripple effect positively impacting lives people around world while setting example us all should strive emulate each day .