"The Italian Dream"
RECORD: 18-6-1
FIGHTING STYLE: MMA
STANCE: Southpaw
DIVISION: Middleweight
HEIGHT: 6' 0"
REACH: 74"
LEG REACH: 41.00
WEIGHT: 185 lbs.
TEAM: London Shootfighters (2012–2014)
NATIONALITY: Trento, Italy
AGE: 28


Accolades
RECENT WIN STREAK: 5
WINS BY KO: 2
WINS BY SUBMISSION: 9
WINS BY DECISION: 7


FIGHTER METRICS
STRIKING ACCURACY
Significant Strikes Attempted: 2013
Significant Strikes Landed: 897
TAKEDOWN ACCURACY
Takedowns Attempted: 61
Takedowns Landed: 7
Latest Bouts: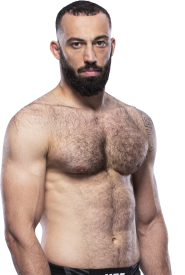 Roman Dolidze
Winner by Unanimous Decision in Round 3
Sat. Mar 18, 2023
286
Robert Whittaker
Defeated by Unanimous Decision in Round 3
Sat. Sep 03, 2022
Paulo Costa
Winner by Unanimous Decision in Round 5
Sat. Oct 23, 2021
Israel Adesanya
Defeated by Decision in Round 5
Sat. Jun 12, 2021
263
Kevin Holland
Winner by Decision in Round 5
Sat. Apr 10, 2021
Jack Hermansson
Winner by Decision in Round 5
Sat. Dec 05, 2020
Karl Roberson
Awaiting Outcome
Wed. May 13, 2020
Andrew Sanchez
Winner by Decision in Round 3
Sat. Oct 12, 2019
Andrew Sanchez
Awaiting Outcome
Sat. Sep 14, 2019
Cezar Ferreira
Winner by Decision in Round 3
Sat. Jul 13, 2019
Marvin Vettori is an up-and-coming Italian Mixed Martial Artist (MMA) who currently competes in the Ultimate Fighting Championship (UFC). Born on April 5th, 1993, he has quickly made a name for himself as one of the best middleweight fighters in the sport. He first started training MMA at age 16 and since then his career has taken off.
Vettori began his professional MMA career in 2012 by competing on various regional circuits throughout Italy and Europe, compiling a record of 11 wins and 1 loss before entering the UFC. In 2016 he signed with the promotion and has since gone 7–2–1 within its ranks. His most notable accomplishment to date is defeating Israel Adesanya for a split decision victory in 2018; this was Adesanya's first defeat of his professional career at that time.
Outside of fighting, Marvin Vettori is known for being an ambassador for Italy – something he takes great pride in doing. He loves interacting with fans both online and offline, often posting inspirational messages or snippets from his daily life on social media sites such as Instagram or Twitter. Aside from MMA-related topics, he also enjoys discussing lifestyle issues such as health & wellness tips or nutrition advice with his followers.
In addition to sharing news about upcoming fights or other projects that keep him busy during fight camps outside of competition, Marvin Vettori also gives back to local communities through fundraisers that benefit charities across Italy related to youth education & sports programs. He believes strongly that it's important to be involved when it comes to helping others out – no matter how small your contribution may be – because even "a single drop can make an ocean"!
Marvin Vettori continues to stay humble despite all his successes – both inside and outside of the cage – which have earned him respect not only from fellow athletes but also from those around him who recognize just how hardworking he truly is! As one half Italian/half Hungarian fighter noted recently: "His work ethic speaks volumes about what kind person [he] is."