AKA
Karl "Baby K" Roberson
Stats
Fighting style: Kickboxer
Stance: Southpaw
Division: Middleweight
Height: 6' 1"
Reach: 74"
Leg reach: 41.00
Weight: 205 lbs.
Team: Killer B Combat Sports Academy
Nationality: Neptune City, United States
Age: 30

Accolades
Wins by KO: 2
Wins by submission: 4
Wins by decision: 3

ATHLETE METRICS
STRIKING ACCURACY
Significant Strikes Attempted: 327
Significant Strikes Landed: 172
TAKEDOWN ACCURACY
Takedowns Attempted: 7
Takedowns Landed: 1
BIOGRAPHY
Karl Roberson is a professional mixed martial arts (MMA) fighter currently signed to the Ultimate Fighting Championship (UFC). Born in Neptune, New Jersey on October 5th, 1989, he began his career as an undefeated amateur before making his professional debut in 2013.
Roberson did not start out with dreams of becoming a UFC fighter. He was naturally athletic as a child and played football growing up. However, it wasn't until after high school that he discovered MMA when some friends invited him to come train at their gym. His natural athleticism and determination paid off quickly as he went on to win several amateur fights and eventually earned himself a spot in the Ring of Combat promotion where he had great success going 6-1 with six finishes.
In June 2016 Roberson finally made it big signing with the UFC after being featured on Dana White's Tuesday Night Contender Series—an elimination style show that awards contracts to those who perform well enough during their fight night matchups. After signing with the UFC, Roberson went 3-2 through five preliminary fights before getting his first official bout against Cezar Ferreira at UFC Fight 125: dos Anjos vs Lee which ended in unanimous decision victory for Roberson earning him "Fight of The Night" honors for his performance both inside and outside of the octagon . From there things only got better as Karl went on to win four more fights within two years including notable bouts against Jack Marshman and Wellington Turman Jr .
Since joining the ranks of professional fighters Karl has shown himself capable of competing against any opponent put in front of him thanks largely due to tremendous cardio conditioning–giving him what many consider an unfair advantage over those who can't keep up with his pace throughout each round—coupled with crisp technical striking skills honed by training alongside well known new jersey gym Team Renzo Gracie NJ along side fellow teammate like Nick Pace , Eddie Gordon , Jalin Turner & Randy Brown —allowing him compete at a level far beyond most others within just six years professionally competing
Moving forward Karl will be looking stay active within 2021 having already taken part in one fight this year so far – losing via decision but showing incredible heart throughout all three rounds –and continue building upon legacy while proving why they call him " Baby K" amongst teammates & fans alike!
Fight History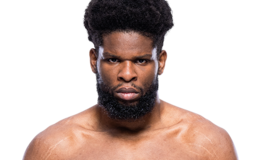 Karl Roberson: Defeated
by KO/TKO in Round 3 @ 2:19
Sat. Jul 09, 2022
Karl Roberson: Defeated
by KO/TKO in Round 2 @ 0:25
Sat. Mar 12, 2022
Karl Roberson: Defeated
by Submission in Round 1
Sat. Apr 24, 2021
261
Sat. Dec 12, 2020
256
Wed. May 13, 2020
Karl Roberson: Winner
by Submission in Round 3
Sat. Nov 09, 2019
Mos
Karl Roberson: Winner
by Decision in Round 3
Sat. Jul 13, 2019
Karl Roberson: Winner
by Decision in Round 3
Sat. Nov 03, 2018
230