AKA
Tafon "Da Don" Nchukwi
Stats
Stance: Orthodox
Division: Light Heavyweight
Height: 6' 0"
Reach: 77"
Leg reach: 41.00
Weight: 185 lbs.
Team: Team Lloyd Irvin
Nationality: Bamenda, Cameroon
Age: 27

Accolades
Wins by KO: 4
Wins by decision: 2

ATHLETE METRICS
STRIKING ACCURACY
Significant Strikes Attempted: 734
Significant Strikes Landed:
TAKEDOWN ACCURACY
Takedowns Attempted: 7
Takedowns Landed: 4
BIOGRAPHY
Tafon Nchukwi is an up-and-coming mixed martial artist who competes in the Ultimate Fighting Championship (UFC). He was born on April 26, 1997 in Bali, Cameroon and grew up in Yaounde. As a child, Tafon was extremely athletic and began playing soccer at age 3. After attending secondary school, he made his way to the United States where he attended college at Limestone College on a football scholarship. He graduated with a degree in Exercise Science & Physiology and trained as an amateur MMA fighter before turning professional in 2019.
Nchukwi made his professional debut with Global Knockout (GKO) and quickly made waves by winning three fights within four months of each other; securing two knockouts along the way. His performances earned him a five-fight deal with Island Fights where he won three more bouts via submission or knockout. Following this streak of success, Tafon signed with UFC Fight Night: Hermansson vs Vettori II to make his Octagon debut against Jamie Pickett who had previously competed in Bellator MMA and CFFC promotions. Although Pickett won the fight via split decision after three close rounds, it was clear that Nchukwi had what it takes to compete at an elite level and later signed a UFC contract for additional fights going forward.
On March 6th 2021, Nchukwi faced off against Khalil Rountree Jr., another seasoned veteran of both UFC & Strikeforce fame as part of UFC 259's preliminary card which aired on ESPN+. The fight went all three rounds with Tafon emerging victorious by unanimous decision after showcasing superior striking skills throughout the bout including two knockdowns against Rountree Jr.. With this impressive performance came recognition from many high profile personalities such as Nate Diaz who praised him for being "the next generation star" while Dana White called him "the real deal – not hype!"
With just eight professional fights under his belt so far – four wins resulting from knockout/submission plus one win by decision – Nchukwi is certainly making waves within the sport as one of its brightest prospects moving forward into 2021 & beyond thanks to his relentless work ethic inside & outside of training sessions combined with formidable technique that has proven itself time & time again so far; especially when it comes to standing strikes exchanges which have earned him above mentioned accolades from some of MMA's biggest names already – earning himself admirers across both continents due to fighting for Cameroon's pride everytime he steps into octagon cage .
Fight History
Tafon Nchukwi: Defeated
by Unanimous Decision in Round 3
Sat. Aug 12, 2023
Tafon Nchukwi: Defeated
by KO/TKO in Round 1 @ 1:15
Sat. Jun 25, 2022
Tafon Nchukwi: Defeated
by KO/TKO in Round 3 @ 0:44
Sat. Mar 12, 2022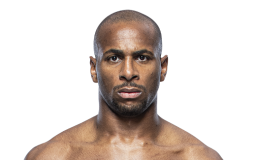 Tafon Nchukwi: Winner
by Unanimous Decision in Round 3
Sat. Sep 18, 2021
Tafon Nchukwi: Defeated
by Decision in Round 3
Sat. May 08, 2021
Tafon Nchukwi: Winner
by Decision in Round 3
Sat. Dec 19, 2020