AKA
Maria "Spider-Girl" Oliveira
Stats
Stance: Orthodox
Division: Women's Strawweight
Height: 5' 6"
Reach: 69"
Weight: 115 lbs.

BIOGRAPHY
Maria Oliveira is a female Mixed Martial Arts (MMA) fighter who has been competing in the Ultimate Fighting Championship (UFC) since 2011. She currently holds the rank of #12 Featherweight in the world, as well as being one of the top female fighters in her weight class.
Originally from Brazil, Maria began training at an early age and soon developed into an amateur MMA star. She started out competing in smaller promotions throughout Brazil before eventually joining UFC's roster when she was 23-years-old. Her first bout came against Felice Herrig at UFC on Versus 3, where she earned a unanimous decision victory to launch her career with the organization.
Since then, she has gone on to compete against some of MMA's biggest names such as Amanda Nunes for the women's bantamweight title and recently Cris Cyborg for the featherweight belt; both bouts ending with losses for Oliveira but putting up strong performances nonetheless that have helped solidify her status as one of MMA's premier athletes.
Outside of fighting, Maria is also involved with various charitable organizations such as World Vision International which focuses on helping children around rural Brazil get access to quality education resources among other things; many fighters see Oliveira's work outside of competition as inspirational and it further demonstrates why she is held by so many fans worldwide. Additionally, Maria works very hard at keeping herself physically fit year round which includes intense strength training regimen along with martial arts classes that help prepare her body for upcoming fights and exhibitions alike. This dedication helps keep her prepared no matter what fight comes up next while also maintaining a healthy lifestyle overall – something many people admire about this elite athlete!
At just 31 years old Maria promises to be around cageside longer than ever before looking to make waves within all divisions across UFC while continuing building upon an already impressive résumé thus far inside octagon walls!
Fight History
Maria Oliveira: Defeated
by Unanimous Decision in Round 3
Sat. Jun 10, 2023
289
Maria Oliveira: Winner
by Split Decision in Round 3
Sat. Jun 18, 2022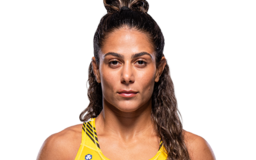 Maria Oliveira: Defeated
by Unanimous Decision in Round 3
Sat. Oct 23, 2021