AKA
Ashlee "Rebel Girl" Evans-Smith
Stats
Stance: Orthodox
Division: Bantamweight
Height: 5' 8"
Reach: 67"
Leg reach: 40.00
Weight: 135 lbs.
Team: Reign Training Center (2012)
Nationality: Ukiah, United States
Age: 32

Accolades
Wins by KO: 3
Wins by decision: 3

ATHLETE METRICS
STRIKING ACCURACY
Significant Strikes Attempted: 1098
Significant Strikes Landed: 392
TAKEDOWN ACCURACY
Takedowns Attempted: 28
Takedowns Landed: 5
BIOGRAPHY
Ashlee Evans-Smith is an American mixed martial artist who currently fights in the UFC's Women's Bantamweight division. A native of La Habra, California, she began her martial arts career at a young age with taekwondo and Muay Thai and eventually transitioned to Brazilian Jiu-Jitsu and MMA. She made her professional MMA debut in 2011 and was quickly signed by Invicta Fighting Championships in 2014. After making two appearances for Invicta FC, she made her UFC debut at Fight Night 72 in 2015 where she earned a second round TKO victory over Marion Reneau.
Since then, Ashlee has gone on to become one of the most promising female fighters in the UFC today. She has fought some of the biggest names including Sarah Kaufman, Jessica Eye, Raquel Pennington and Bethe Correia while showing off her impressive striking skills as well as grappling acumen during all of these bouts. In addition to that, she also won Performance Of The Night honors against Bec Rawlings at UFC 193 for finishing the fight with a TKO early in Round 2​ due to strikes from mount position which showcased her deep knowledge of ground fighting techniques combined with excellent stand up game.
In 2017 Ashlee suffered an ACL tear during training which kept her out for almost 17 months before returning back into octagon against Norma Dumont Viana at Fight Night 158 where she delivered yet another spectacular performance by earning a unanimous decision win after three rounds since judges awarded total no scorecards were given during this bout thus showcasing both skillful techniques displayed by both opponents throughout duration of fight night match up .
Outside the octagon Ashlee continues to be one of top female athletes when it comes representing herself professionally by staying active social media platforms giving updates about upcoming matches , offering advice people who need it using hashtag "#thebestisyettocome" along various other ventures such as motivational speaking engagements , charity work more . Her commitment inspires many regardless gender or background when talking breaking barriers achieving goals through hard work determination . After conquering so much adversity throughout career there's no doubt that best is still yet come for legendary athlete like Ashlee Evans- Smith .
Fight History
Ashlee Evans-Smith: Defeated
by Unanimous Decision in Round 3
Sat. Jul 15, 2023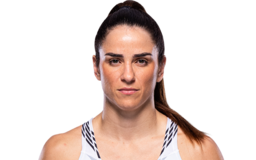 Ashlee Evans-Smith: Defeated
by Decision in Round 3
Sat. Nov 28, 2020
Recent News