Stats
Stance: Southpaw
Division: Flyweight
Height: 5' 4"
Reach: 65"
Leg reach: 36.00
Weight: 125 lbs.
Age: 26

ATHLETE METRICS
STRIKING ACCURACY
Significant Strikes Attempted: 257
Significant Strikes Landed: 141
TAKEDOWN ACCURACY
Takedowns Attempted: 6
Takedowns Landed: 2
BIOGRAPHY
Natalia Silva is a mixed martial artist who currently competes in the Ultimate Fighting Championship (UFC). Born on December 4th, 1986, Natalia has been fighting professionally since 2011. She made her UFC debut in 2019 and has quickly become one of the most promising fighters in the promotion.
Growing up, Natalia was an avid sports fan and had aspirations to become a professional athlete. Initially she chose basketball as her chosen sport but it wasn't until 2007 that she stumbled across Mixed Martial Arts (MMA) after watching an event with some friends on television. After this fateful night, Natalia began training MMA in local gyms and it wasn't long before she realized that this was something she could pursue professionally.
In 2009, at just 22 years old, Natalia made her professional MMA debut at XFC 8: Contenders against Marina Moraes which ended in a draw. On her journey to become an elite fighter within the sport of MMA she competed for various organizations including Bellator and Invicta FC before eventually being signed by UFC in 2019.
Since signing with UFC, Natalia has gone undefeated posting wins over notable names such as Andrea Lee and Montana De La Rosa both by unanimous decision (UD). Her impressive performances have seen her rise through the rankings where she now finds herself ranked #15 in women's flyweight division according to Sherdog rankings system as of June 2020 – not bad for someone who only signed with UFC less than two years ago!
One thing that sets apart Natalia from other fighters is how seriously dedicated she takes each fight preparation process; spending months fine tuning every aspect of training whether it be striking or grappling related – nothing is overlooked when it comes to becoming successful inside or outside of the octagon!
Outside of competition life for "The Killer Bee" remains just as busy balancing between media commitments such as interviews & photoshoots alongside teaching classes at Imperial Athletics Academy which provides excellent mentorship from experienced coaches whilst simultaneously allowing students access to world class equipment used by today's top athletes alike! In addition to all these activities natalia also works part time for a non-profit organisation working towards ending childhood hunger worldwide – further demonstrating why fans adore "The Killer Bee". Going forward we can only assume what exciting things await us next from this incredible talent..
Fight History
Natalia Silva: Winner
by Unanimous Decision in Round 3
Sat. Aug 19, 2023
292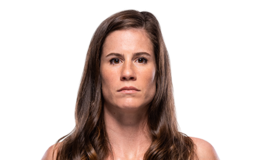 Natalia Silva: Winner
by KO/TKO in Round 1 @ 2:58
Sat. May 20, 2023
Natalia Silva: Winner
by Unanimous Decision in Round 3
Sat. Jun 18, 2022