Stats
Stance: Orthodox
Division: Women's Strawweight
Height: 5' 3"
Reach: 68"
Weight: 115 lbs.
Age: 27

ATHLETE METRICS
STRIKING ACCURACY
Significant Strikes Attempted: 52
Significant Strikes Landed: 12
TAKEDOWN ACCURACY
Takedowns Attempted: 10
Takedowns Landed: 2
BIOGRAPHY
Jacqueline Amorim is an ambitious and driven professional Mixed Martial Arts (MMA) fighter from Brazil. Born in Rio de Janeiro, she was inspired by her father to pursue martial arts at a young age. She began training Jiu-Jitsu and Muay Thai in her teens, setting the foundation for a successful career as one of the top female MMA contenders in the UFC.
Amorim quickly gained recognition as a rising star within the Brazilian MMA community, competing as an amateur before joining The Ultimate Fighter (TUF). She won her debut TUF fight with a second-round submission victory over Marcela Basilio and has since become one of the most feared fighters on the roster.
Amorim has developed an impressive record in both MMA fights and kickboxing matches. She has had several wins over high-profile opponents such as Jéssica Andrade, Sarah Kaufman, Angela Hill, and Claudia Gadelha among others throughout her career so far. This success has allowed Amorim to gain multiple title opportunities; she competed for titles three times during 2020 alone! Her last win was against former champion Holly Holm at UFC Fight Night 187 – earning Amorim a Performance of the Night bonus along with it!
Outside of fighting inside of cages or rings, Amorim is also very active in charity work – particularly towards helping children learn martial arts skills which can help them defend themselves while growing up around violence unfortunately common to parts of Brazil today. Furthermore due to her immense popularity across social media platforms like Instagram & YouTube; she's been able to use these channels to further spread awareness about local initiatives that are doing great work for their communities too!
Overall Jacqueline Amorim is making waves not only inside but outside of UFC with perfect blend athleticism & philanthropy!
Fight History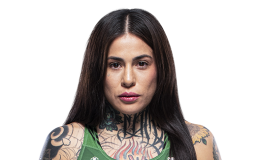 Jaqueline Amorim: Winner
by KO/TKO in Round 3 @ 3:41
Sat. Aug 12, 2023
Jaqueline Amorim: Defeated
by Unanimous Decision in Round 3
Sat. Apr 08, 2023
287