Stats
Stance: Orthodox
Division: Flyweight
Height: 5' 4"
Reach: 62"
Weight: 125 lbs.

BIOGRAPHY
Jesus Aguilar is a professional mixed martial arts fighter from Mexico and currently fights in the UFC. He has been fighting professionally since 2015 and has had great success in both amateur and professional bouts.
Aguilar was born in Chihuahua, Mexico on May 11, 1989. Growing up he was always involved with sports such as soccer, basketball, and baseball but he soon discovered MMA when his brother introduced him to it at age 17. After taking part in a few amateur fights he knew this was what he wanted to do for the rest of his life so he devoted himself completely to training for MMA. In 2014 Aguilar began competing professionally making an impressive debut by winning his first three bouts via unanimous decision.
In 2016 Aguilar made his way into the United States where he signed with World Series of Fighting (WSOF). His time with WSOF saw him get five wins including one title victory over David Branch where Aguilar displayed excellent grappling skills which earned him Submission of the Night honors as well as Fight of the Night honors along with Branch. During this stretch Jesus also won four consecutive knockouts increasing his knockout total to nine out if sixteen wins via strikes proving that not only is Jesus skilled on the ground but also possesses power in striking which makes him very dangerous when facing opponents inside the cage or octagon.
As 2017 came around Jesus again changed promotions signing onto UFC becoming their first Mexican champion ever signed by them! Since then Jesus has gone 3-2 within UFC defeating notable names like Brad Scott and Brad Tavares amongst others earning two performance bonuses along the way showing how excitingly entertaining each fight can be from start to finish!
Outside of MMA Jesús loves spending time outdoors doing activities such as camping or playing soccer when not training at The Arena gym located near where Jesús resides on San Diego California's east side; there's even talk about Jesse maybe opening up a gym once retired from fighting due to how much knowledge and experience accumulated during many years dedicated towards martial arts practice since childhood days back home in Chihuahua Mexico
Overall, Jesus Aguilar is an outstanding competitor who strives for greatness inside & outside of competition looking forward into bigger challenges always determined towards achieving goals set before seemingly impossible odds …with much respect towards fellow competitors within sports world thus setting examples whenever possible inspiring others around him
Fight History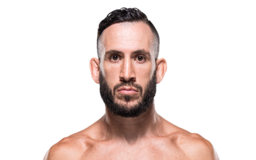 Jesus Aguilar: Winner
by KO/TKO in Round 1 @ 0:17
Sat. Jul 08, 2023
290
Jesus Aguilar: Defeated
by Submission in Round 1 @ 4:20
Sat. Feb 04, 2023