AKA
Cheyanne "The Warrior Princess" Vlismas
Stats
Stance: Switch
Division: Women's Strawweight
Height: 5' 3"
Reach: 63"
Weight: 115 lbs.

BIOGRAPHY
Cheyanne Vlisimas, commonly known as "The Warrior Princess" is an American mixed martial artist and Ultimate Fighting Championship (UFC) competitor. Born in Los Angeles, California on March 1st 1982, she began her career in the competitive world of mixed martial arts at a young age.
Vlisimas first got into the sport when she was just nine years old. She was inspired by watching fighters compete on television and wanted to try it out for herself. After taking up classes at a local gym with some friends from school, Cheyanne started training regularly and competing in amateur bouts. By the time she turned seventeen, Vlisimas had already earned several MMA titles including Tuff-N-Uff's Junior Girls Featherweight Title and Rumble World Entertainment's Amateur Bantamweight Title Belt as well as other various awards along the way.
In 2012, Cheyanne decided to take her fighting career to the next level by joining InvictaFC's FlyWeight Division; where she went 2-1 before being signed by UFC later that year. Vlisimas made her promotional debut against Jessica Andrade when they faced each other at UFC Fight Night: Machida vs Rockhold II back in December 2014 – winning via unanimous decision after three rounds of intense action! From then on Cheyanne has gone 5-3 within UFC – secured impressive victories over names such as Leslie Smith & Sarah Kaufman whilst also experiencing losses versus Jessica Eye & Ketlen Vieira (twice).
Throughout this amazing journey so far within MMA competition – Cheyanne has proven herself time & time again that her dedication determination are second to none! Not only does this warrior princess bring excitement whenever stepping inside that Octagon but continues push boundaries outside too; using her platform inspire others whose journeys may have not been easy… With those words of motivation in mind – there seems be no doubt that we will see great things coming from 'The Warrior Princess' throughout upcoming months/years come!
Fight History
Cheyanne Vlismas: Defeated
by Unanimous Decision in Round 3
Sat. Dec 17, 2022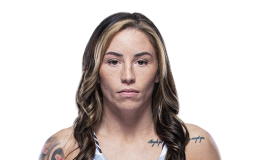 Cheyanne Vlismas: Winner
by Unanimous Decision in Round 3
Sat. Dec 04, 2021